This week as been by far one of the busiest in a long while.
My lovely friend Markie married the man of her dreams on new years eve and me and a few friends were bridesmaids for this event! It was a very long process, but.. I think the outcome was pretty glorious! It was quite fun because I was able to add a few little creative touches to their wedding by creating rosettes for most of the bridesmaids and a feather hairpiece for the lovely bride.. (who, by the way, looked ABSOLUTELY stunning. The definition of a bride)
Anyway, here is a pretty terrible photograph of the hairpiece I made for the bride: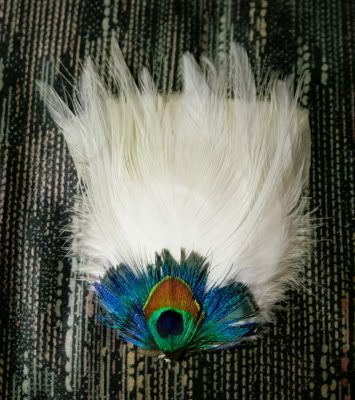 Anyway, I have been absolutely exhausted these past few days.. Last night was wonderful, though. I spent a wonderful amount of time with my beautiful friends and took photos of the occasion. (will update later with photos) took a ton of lovely film photos with my AE-1 and spent time singing old death cab songs, watching home videos we made over 4 years ago and acted as if we had never left that time behind.

In other news, I took a lovely photograph with my beautiful kitty, Olive. She is such a little show off.
Well, that's all for now.. cheers loves!
xo Kala Noel.