For Christmas I didn't have much money to spend so I decided to paint my best friend Bruklyn her favorite animal of all time, DEER! We both adore forest animals and have had an unhealthy obsession with "power animals" for years now. I've always been very much into birds, feathers and anything relating to that. I grew this strong obsession with owls years ago and ever since then my collection keeps growing and growing.
We often find little figurines for one another, owls for me and deer for her.
So, with that I was able to create her favorite photograph into a painting by me!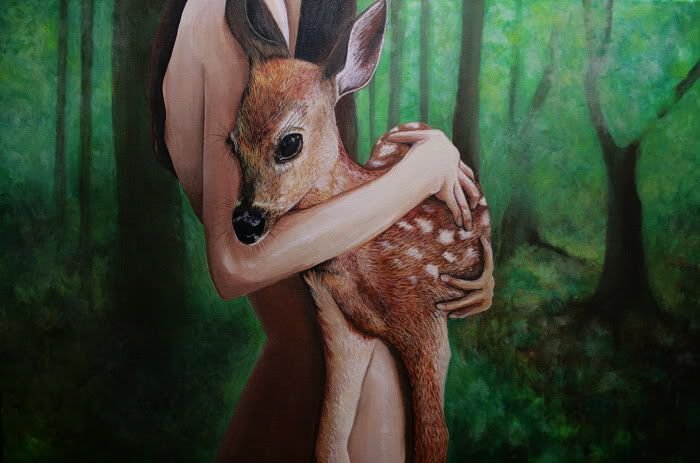 it's not completely finished but I promise it will be soon! ***EDIT*** finished photograph of the painting.. (still needs a few touch ups)

In other news I've been having some ukulele blues lately. I purchased my first and only ukulele a few months ago from a lady on craigslist.. I was so excited about just getting a ukulele that I purchased the first one I found! It's not a "toy" but it's most positively not amazing. For the most part it doesn't really stay in tune for too long and it's a bit dinged up and has a real "classy" label reading duke kahanamoku on the front.. nonetheless I love it but I want a better one! I tested out some in San Fransisco and fell in love with a Kala brand one.. (which seems a little narcissistic of me seeing that my name is Kala.. BLEH) All I know is I'm saving up money for a new ukulele and thought I'd share with everyone one of my favorite little ukulele songs:


I fall in love with the both of them everytime!

Cheers darlings! xo